Published June 24, 2023                    7 Min Read
How An Electric Cargo Bike Can Save You Hundreds Each Month
Watch your monthly transportation bill drop from triple to double digits
By Laura Belmar, CEO of Integral
Imagine this: instead of paying hundreds of dollars each month for another vehicle to run to the grocery store in or pick up your kids in, you pay $30. Sounds too good to be true, right?
For families that own electric cargo bikes, this is their reality! Electric cargo bikes are robust vehicles that, for most families with young children, can actually replace many of your trips taken by car, at a mere fraction of the cost.
In this article, we'll break down the average costs of owning a cargo e-bike like Integral's Front Load Cargo Bike versus a family vehicle, like a 4-door sedan.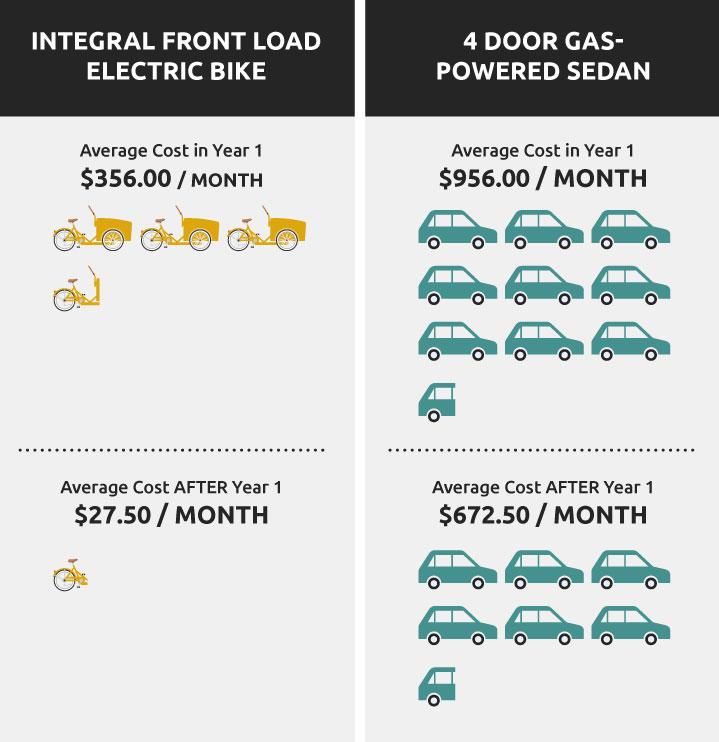 But First, How Can Cargo e-Bikes Replace Cars?
Think about your day to day routine. When do you typically get in the car? For us, it's when we need to make a grocery run, pick up our kids from school, commute to work, or make our way to social engagements. Most of the time, we're driving for less than 15-30 minutes, but loading kids into the car, waiting in traffic, and finding parking can turn any of these trips into a much longer affair. After a long work day, that's the last thing we want. 
Consistent with our personal experiences, a 2021 study for the Bureau of Transportation Statistics found that in the US, over 50% of daily trips across all modes of transportation were under three miles. Nearly 30% were under one mile! 
With an electric cargo bike, built with a sturdy, spacious cargo area and a powerful motor, you can easily transport groceries, kids, picnic gear or party supplies. Now imagine that for those numerous short trips you make each week, instead of idling in your car, you are moving your body and enjoying some fresh air instead.
Sounds pretty great, right? Now, let's get into the cost comparison. 
Vehicle Cost
Other than the obvious sticker price difference between a bike and a car, the main financial burden of a car is its price over time. If you choose to finance your car purchase, you commit to paying hundreds of dollars each month, for several years. 
Today, the cheapest new 4-door sedan, the 2023 Nissan Versa, will cost you over $17,000. If you are financing your purchase with an auto loan, you might pay a down payment of 20% of the purchase price, amounting to $3,400. For someone with a strong credit history, you can expect an interest rate of about 4%. With a five-year loan term, your monthly car payments amount to $250. In your first year, your average monthly payment, including the down payment, is $533. From the second year onward until you pay off your loan, you'll be paying $250 per month.
By comparison, electric cargo bikes typically cost between $2,000 to $8,000. Integral's Front Load Cargo E-Bike costs $3,950. You also have the option to spread your payment out over three, six or twelve months. If you choose the twelve-month option, your monthly payment is $330. After a year, you've paid off your bike in full.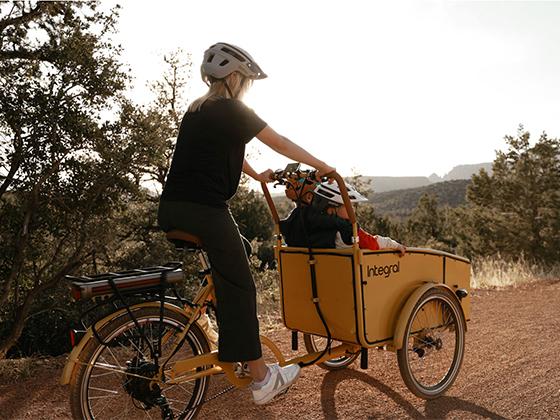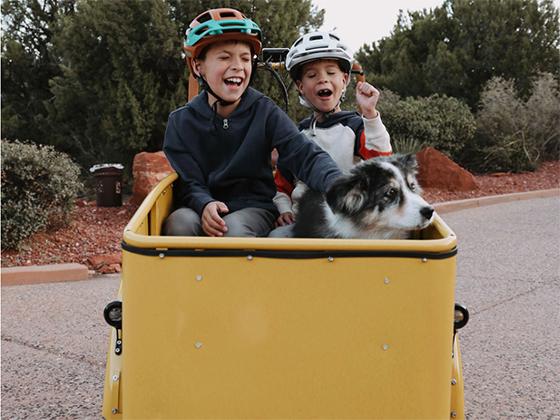 Vehicle Registration
Depending on what state you live in, it can cost anywhere from $8 to $225 per year to register your car. Let's assume you live somewhere where it costs $100 to register your vehicle each year.
Electric cargo bikes don't require vehicle registration. 
Insurance
On average, the cost of full coverage car insurance in the US is around $2,000 per year, or $167 per month, assuming you're a good driver with good credit.
Electric bikes can be insured too! We'll get more into this in another blog post, but for now, just know that typically, insurance starts at $100 per year.
Ready to start saving?
With 3, 6 and 12 month financing options, switching to a cargo e-bike is easier than ever before.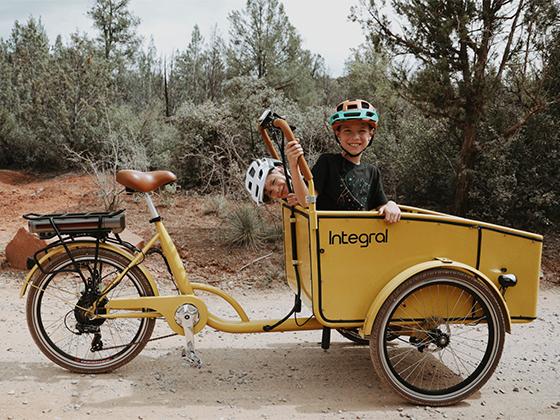 Maintenance & Repairs
According to a study by AAA, a new car's routine maintenance and repairs cost an average of $0.09 per mile. If you're an average American driver, you drive around 13,000 miles per year and spend around $1,170 on maintenance and repairs per year, or nearly $100 per month. 
With a cargo e-bike, you can expect to spend around $200 to service it each year. We'll share another post soon with our suggestions for servicing your bike.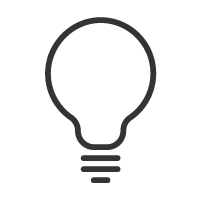 Fuel
The average American spends between $150 to $200 on gas every month. 
By comparison, charging your cargo e-bike in the US for an entire year will only add about $20 to your electricity bill!
Summing It All Up
Over time, the savings from purchasing an electric cargo bike versus a car are substantial. Yes, introducing a new form of transportation into your family's routine will take a bit of time, but we'd say that the health and wellness benefits for you, the joy that it will bring your children, and the memories you'll form with your family will all make it worth it. Saving a heap of money is only where the benefits begin!
Integral's Front Load Cargo Bike could be the solution to your family's search for an affordable, sustainable way to get around town. 
Learn more about our favorite bike HERE.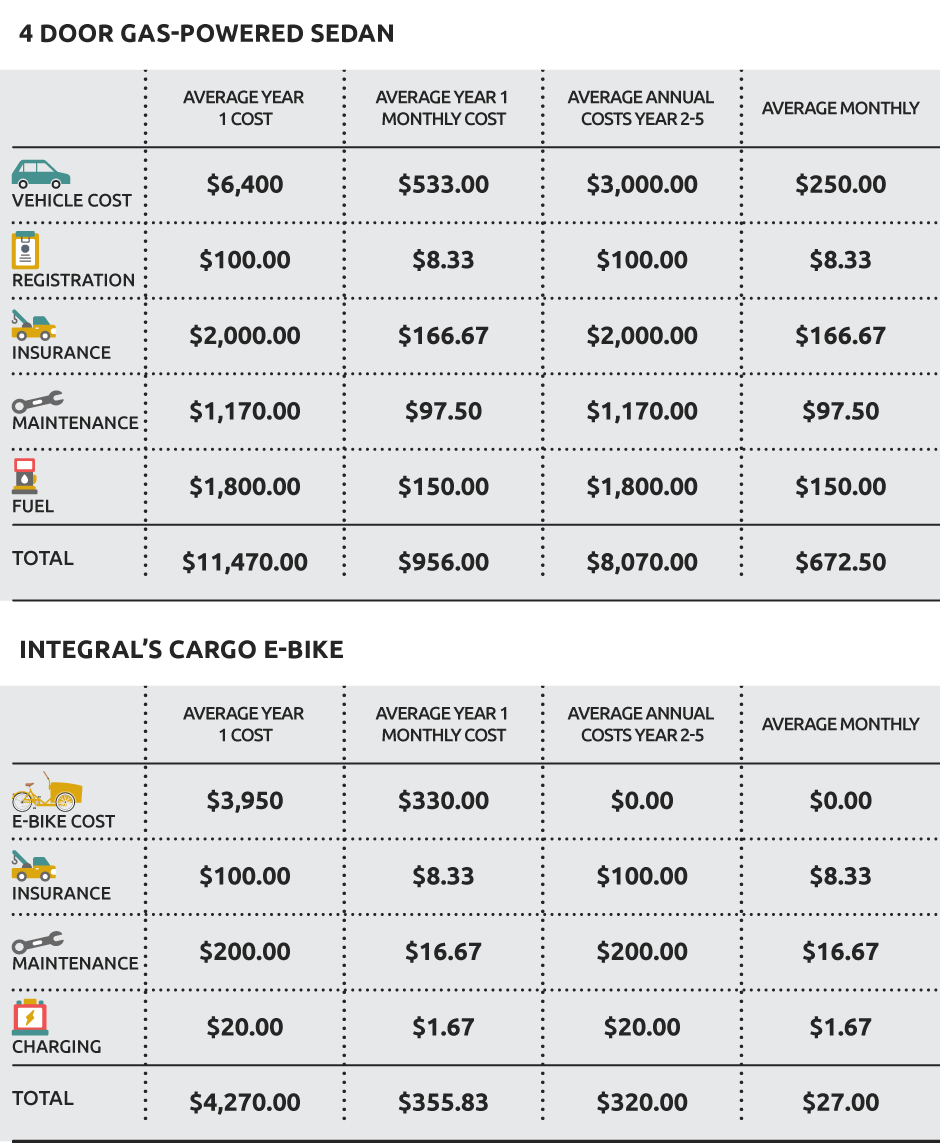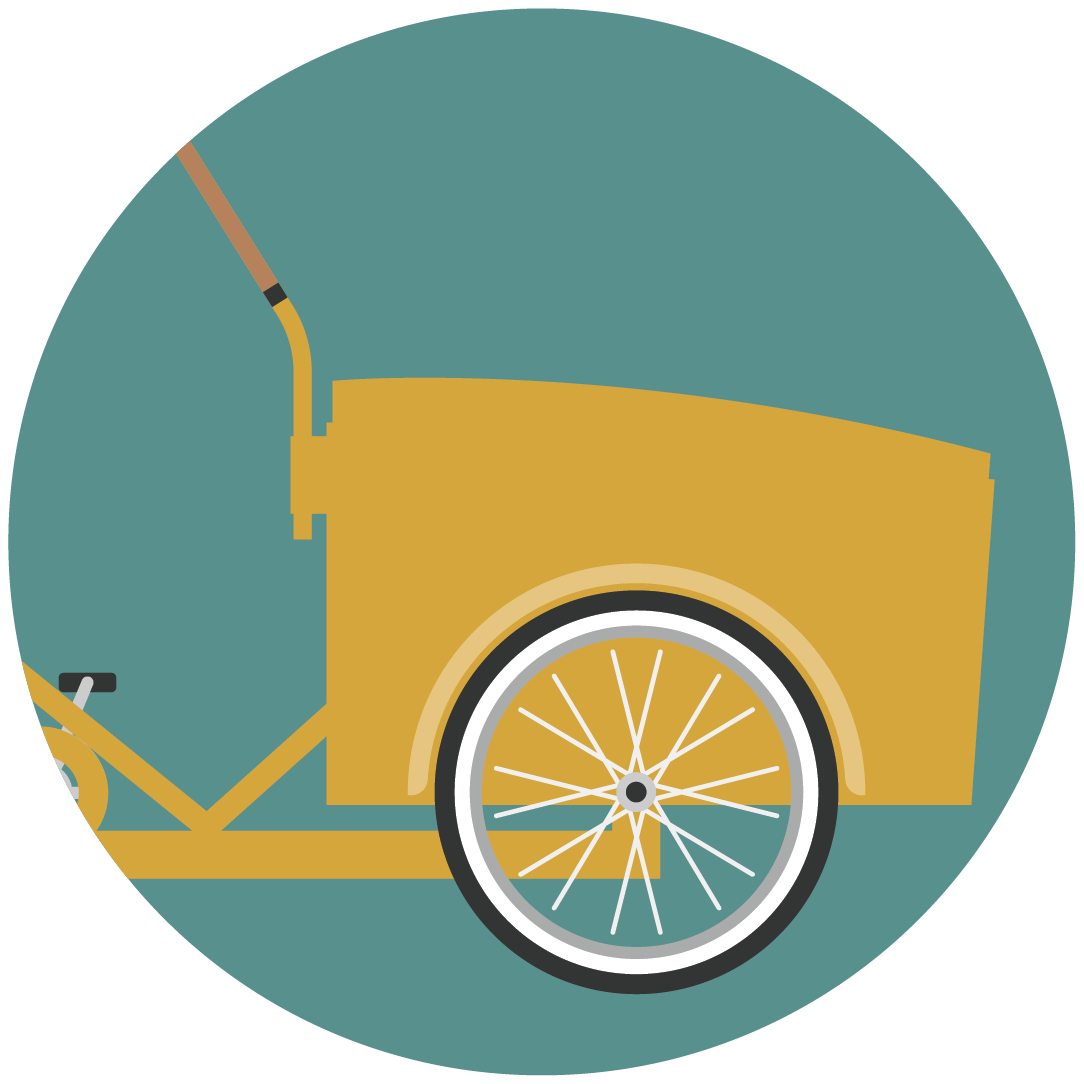 "I have ridden many cargo bikes before and this cargo eBike is spot on for stability and control. While on other bikes my kids felt unstable, riding this bike makes them feel safe so that we all can enjoy the ride!"

30-Day Returns
While most e-bike brands stop at 14 days, we'll give you a full 30-day, 50-mile window to ensure you love your bike.

Buy With Installments
E-bikes are a big investment, so we offer 3, 6 and 12 month payment plans. Terms vary based on credit.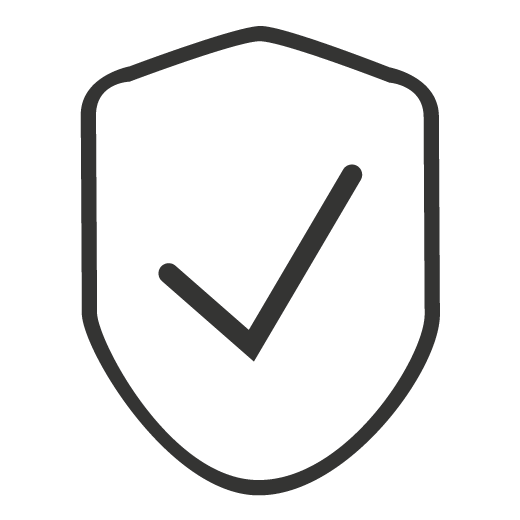 1+ Year Warranty
All our products come with a 1 year warranty. If you provide proof of service in year 1, we'll extend your warranty to 2 years.
Have a Question?
Our team is standing by to help! Text, email, or schedule an e-bike consult.